There have been few moments in the trials and tribulations or rock band politics in recent years to match the acrimony, the bitterness and, frankly, the crass stupidity which surrounded the debacle of Sharks' bust-up a month or so ago.
Now the band is once again settled. Their excellent guitarist Chris Spedding, usually reticent and unwilling to participate in the previous group's internal wranglings, wants to talk - mostly about the new band, which is about to start the postponed third Sharks album and is being produced by Who bassist John Entwistle.
In his eagerness to convey certainty and excitement, Spedding repeats himself when describing the new band's still basically Sharks-style but with more spaces, simpler playing.
A return to the basics of rock'n'roll. Wrongly believing that he hasn't been able to communicate to the interviewer his enthusiasm and his precise meaning, Chris slips on a cassette of the band playing a new song, "My Oh My" taped during a rehearsal at London's Kings Road Theatre.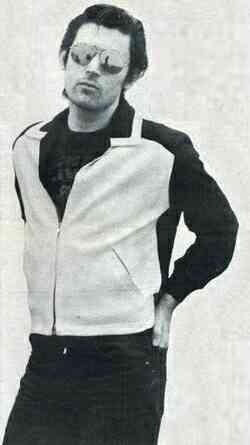 He smiles while it's playing. When it stops he looks at his feet, runs hands thriugh his long lank jet black hair and says; "course, that was recorded with Busta. We were rehearsing for the Biba's gig. It's not quite the band we are now."
A brief story of the band: Formed around December 1972 by bassist Andy Fraser (ex-Free, now with Frankie Miller) and drummer Marty Simon. They called in guitarist Chris Spedding and after about three weeks auditioning trying Leo Sayer and Robert Palmer found Snips, a vocalist from Hull.
"He played one song, 'Snakes And Swallowtails' and he was in," says Chris. it remains the Sharks' classic song.
Stark, virile, punchy, pushy with Spedding's crisp, fiery chords (he's an intensely rhythmic player rather than a flashy soloist), Snips' urgent bellowing and the bass-drums snapping tight around the beat like a vice. Snips had that song for years, says Chris, all it needed was the right band.
Fraser soon quit the band; they got in Busta Cherry Jones, a bassist from Memphis who just hopped a plane got himself a gig. Fraser used to double on keyboards so they got in Nick Judd.
That band had no manager and was hard put to keep the business side of things together. Spedding, who concentrated on the music side which he knew best, says the arguments were constant, often violently inclined and, he reckoned, got in the way of their rock.
But for some of the band, there's no doubt that the tension acted as a sort of catalyst.
Around the beginning of this year, just as their album "Jab It In Yore Eye" came out, spedding said the band decided to get itself proper management.
Paul Rodgers, he says, beat them to Peter Grant so they picked up with Trentdale, a young inexperienced company who pledged Blood, Sweat and Tears.
Trentdale's John Cunningham-Read says that when they came into Shark's world they wanted to make immediate personnel changes and end the power struggle which raged within the band.
In short, they wanted drummer Marty Simon out of the band but were, at that time, unsure of their position with the band to insist Simon be sacked.
So they carried on pushing an album that'd been recorded before they involved themselves with Sharks. To date, says Cunningham-Read, they've sunk around £40,000 into the band. Later Spedding puts the figure at £10,000 less but added once again that he wasn't really into that side of things.
Eventually, while recording the third album it became apparent that Simon would have to go. He would not take direction of any sort even though they'd got Island's A&ampR man Richard Williams to lend an objective producer's ear in order to be a sort of uninvolved arbitrator.
Stewart Francis, late of Glencoe, was brought in on drums. Nick Judd left and joined Frankie Miller's band.
Then came the strange case of Busta. The guy just split back to the States.
Through another local Memphis guitarist name of Robert johnson, Sharks were put in contact with Dave Cochran, a white bassist. "Which makes it a lot easier image-wise" says Chris. "With a black guy in the band people are neverquite sure if you're supposed to be a soul band."
Spedding sums up the future: "I can't see any problems at all because we've lived with all the problems and we've seen them all through and we've got the perfect set up now.
Good management, we've got a good feeling amongst the musicians. I can understand peopl'll be a bit apprehensive until they've heard what we're doing but, I mean, I'm quite confident that what we're doing is gonna work.
"We're gradually finding good, we're gradually finding out what our goods are. we can still have that original vision that we had of a raunchy rock'n'roll band in the tradition of the best English rock bands like the Rolling Stones and the Who."
They're about to start on the third album, maybe a good time to summate their first/two. The debut long play: "I think it's very good. I heard it last night for the first time in about a year and I really liked the first album. But it's so long ago that I can only see it as an album like any member of the public. I just liked it ver much.
"'Jab It In Yore Eye' I had a lot to do with the mixing of so I can't really see it that objectively. We liked it at the time but ... I think it's not quite as good as it should've been." I could not help but agree.
"But that was down to the playing. The band was ... it just about held itself together by a thread. We'd had Busta in the band for about two or three weeks when we went into the studio. Island said 'Do an album or forget it' so we had to go and do it. I think we needed people to kick us up the ass occasionally to make us get it together and they're been quite good."
Spedding's pedigree as a musician is thoroughbred. A session player with as much work as he could handle at one time. He was born up in Sheffield, played violin when 9, mum sang in a Bach choir and dad played organ.
He got into skiffle first - Denny Wright, Lonnie Donegan's guitarist was an early hero. Then he got into Elvis, the Shadows and Eddie Cochran. Never really took the road to electric blues whic his first influence would've perhaps suggested, but like Lightin' Hopkins and Robert Johnson.
He moved to London age 18, sold guitars in a shop, played country music round U.S. bases and met vibist Frank Ricotti with whom he played at Islington Jazz Club.
He did three years with various small groups and dance bands - Nat Temple, Tommy Kinsman, Sid Phillips. Played with Nucleus in its early stages, with Pete Brown's Battered Ornaments, with mike Westbrook, with Jack Bruce's band and did a myriad sessions.
How about those groups. Battered Ornaments, for instance: "It was just like a big joke. That was the way everybody wanted it. It suited everybody perfectly."
Did he enjoy his session work? "I did actually. I did enjoy it. And I stopped doing it when I stopped enjoying it." Which seemed eminently sensible.
"You do so much of it. You get so closeted. I was earning lots and lots of money. I was finding it was so easy to play rubbish and get away with it. I think the main reason was that I couldn't see how I could actually get any further.
I'd played with all the big names in England that it was possible to play with and I'd done sessions where they were all superstars except me. I was a 'might-be' superstar."
He recalls vividly one date where he played guitar, so did Mick Taylor, there was Klaus Voorman on bass, Ringo on drums, Nickey Hopkins on keyboards, Harry Nilsson singing, Geroge Harrison in the box and Bobby keyes playing horns.
"I thought there I was playing with all these guest musicians yet I was picking up union scale at the end of it and going home."
So after a few abortive attempts at forming his own band ("I think I need a bit of a catalyst") he joined Fraser and Simon.
In the interim he'd recorded two solo albums - "Backwood Progression" and "The Only Lick I Know." What did he think of them now? "I like 'em" He says with a touch of Yorkshire defiance. He sounded like cricketer Brian Close a bit. "I'm not ashamed of them at all. I actually think that half and half of the two of them would make a fantastic album. I could make a 'Best Of' album that would be fantastic."
If they'd promoted him as a rock guitarist it would've rid him of the unwanted stigma of "jazz guitarist" earlier in his career. "I ever used to get in the jazz polls in the Melody Maker. I used to think," he laughs, "f***in' hell what's all this?"
That reputation came, he says, from his time with Nucleus. "I did enjoy the first album, 'Elastic Rock.' Second album I didn't like. I thought the band had amazing promise but rapidly went downhill. That could've been fantastic. That could've been like the Mahavishnu but, like, four years ago."
Jack Bruce's band could be great, too. "But there again, y'see, Jack copped out in a way, didn't he? If he'd stuck with ... 'cos it was just after that that Mahavishnu thing broke and that sort of thing suddenly had a market and he'd gone with the other side. Gone back to playing heavy metal rock again which was suddenly appalling West, Bruce & Laing.
"Now I feel I can actually be more involved and also I can build the music around what I wanna play. Before itwas impossible because people were so undisciplined in what they were playing, people used to overplay and I actually found it was very ... I tell you, let me put it this way.
The bass and drums in the old band used to play so much that I felt the greatest contribution I could play towards the music was so literally not play at all."