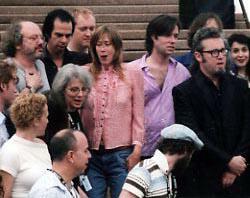 curator: Hal Willner
associate curator: Janine Nichols
the singers;
Nick Cave, Jarvis Cocker, The Handsome Family,
Kate and Anna McGarrigle, Linda Thompson, Teddy Thompson,
Beth Orton, Martha Wainwright and Rufus Wainwright.
Special Guests Perla Batalla and Julie Christensen.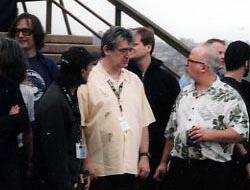 the musicians;
guitar: Chris Spedding
bass: Don Falzone
drums: Kenny Wollsen
keyboards: Rob Burger
trumpet: Steven Bernstein
saxophone: Briggan Krauss
violin: Maxim Moston, Joan Wasser and Charlie Burnham
musical saw: David Coulter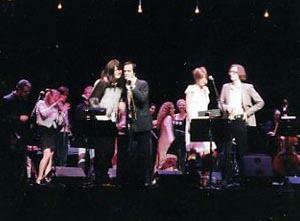 I didn't expect the shows at all, I haven't listened to Leonard Cohen songs,
I know he is a pops singer, not rocker. And the singers onstage? I just know
the names of Nick Cave, Beth Orton (because Lucy Wilkins had sessions with her),
Linda Thompson. All other singers, I didn't know even their names.
I guessed Chris is only a backing musicians, one of them, not play so much...
and on the 29th I had a big event in Japan of my friend who I knew through my work...
I worried and finally decided to go to Sydney.
Did I regret? NO! The show is the greatest. All the singers are the great,
especially Perla Batalla and Antony with beautiful voice and with strange dance!
In fact he got the most applausal by the audiences. The show run mostly 3 hours,
Act I for 90min. and Act II for 80 min or so. But I can promise you aren't bored.
I felt it was short, Sorry Chris, he was the busiest guy in the band. He always
plays guitars except one song. And I say "YES" that Spedding was the key of the band.
Janine said Chris "YOU ARE GENIOUS!" after the last show. I agree her opinion.
And Chris is always Chris. The show was not hot rock'n'roll thing or guitar soup thing,
but when he plays it's always Chris Spedding Style and Sound. Even classic guitar.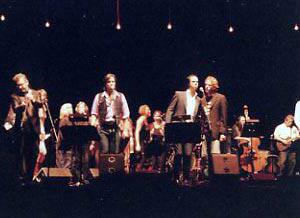 The last show was filmed by 3 high-vision cameras,
which even Janine doesn't know.
She told me that it will be used for DVD or something like that.
I am wondering it will be a Hal Willner's documentary.
3 cameras are too short to make a complete video package.
Last year (2004), Hal Willner did the similar project at UCLA
in January, he was hired, but cancelled at the last minute
because he had to play with Bryan Ferry in New Zealand.
Next year will he do again anywhere???
song title
singer(s)
Spedding plays
ACT I
There Is A War
Nick Cave, Rufus/Martha Wainwright, Teddy Thompson
backing vocals : everyone
electric
I'm Your Man
Nick Cave
backing vocals : Perla Batalla/Julie Christensen
electric
Seems So Long Ago
Linda Thompson, Kate/Anna McGarrigle
backing vocals : a female bgv(unknown)
classic
Story of Isaac
Linda Thompson
classic
1000 Kisses Deep
The Handsome Family and Linda Thompson
classic - electric
Tower of Song
Martha Wainwright
backing vocals : Perla Batalla/Julie Christensen
electric
The Guests
Antony
backing vocals : Perla Batalla/Julie Christensen
classic
Tacoma Trailer
(instrumental)
classic - electric
Who By Fire
Kate/Anna McGarrigle, Martha/Rufus Wainwright and Antony
classic
Hallelujah
Rufus/Martha Wainwright
backing vocals : a female bgv(unknown)
---
Ballad Of The Absent Mare
The Handsome Family
backing vocals : Perla Batalla
classic
Stories Of The Street
Beth Orton
backing vocals : Perla Batalla/Julie Christensen
electric
Diamonds In The Mind
Nick Cave
backing vocals : Janine Nichols/Perla Batalla/Julie Christensen
electric
The Singer Must Die
Julie Christensen
classic
Tonight Will Be Fine
Teddy Thompson
backing vocals : Perla Batalla/Julie Christensen
acoustic
Death Of A Lady's Man
Jarvis Cocker and Beth Orton
backing vocals : McGarrigles/M.Wainwright/P.Batalla/J.Christensen
electric
ACT II
You Know Who I Am
Kate/Anne McGarrigle
backing vocals : Martha Wainwright
classic
The Traitor
Martha Wainwright
classic
Heart With No Companion
The Handsome Family
backing vocals : Perla Batalla/Julie Christensen
acoustic
Sisters of Mercy
Beth Orton
backing vocals : Perla Batalla/Julie Christensen
classic
I Can't Forget
Jarvis Cocker
backing vocals : Perla Batalla/Julie Christensen
electric
Bird on a Wire
Perla Batalla
electric
Chelsea Hotel
Rufus Wainwright
backing vocals : Perla Batalla/Julie Christensen
acoustic
If It Be Your Will
Antony
backing vocals : Perla Batalla/Julie Christensen
electric
Famous Blue Raincoat
The Handsome Family
backing vocals : Perla Batalla/Julie Christensen
electric
Alexandra Leaving
Linda Thompson
backing vocals : Teddy Thompson
electric
Suzanne
Nick Cave
backing vocals : Perla Batalla/Julie Christensen
classic
The Future
Teddy Thompson
backing vocals : Perla Batalla/Julie Christensen
electric
Everybody Knows
Rufus Wainwright
backing vocals : M.Wainwright/McGarrigles/P.Batalla/J.Christensen
electric
Winter Lady
Kate/Anna McGarrigle
backing vocals : Martha Wainwright
electric
Anthem
Julie Christenson and Perla Batalla
electric
Don't Go Home
With Your Hard On
Nick Cave
backing vocals : everyone
electric
encore
Came So Far for Beauty
Kate and Anna McGarrigle
backing vocals : Perla Batalla/Julie Christensen
acoustic
Memories
Jarvis Cocker, Beth Orton, Nick Cave, Antony
backing vocals : everyone
electric