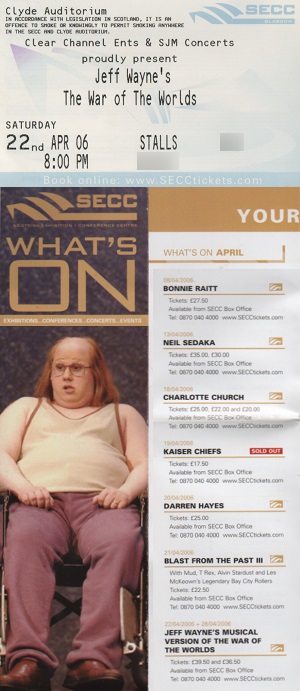 01. Prequel
02. The Eve of the War
03. Horsell Common and the Heat Ray
04. The Artilleryman and the Fighting Machine
05. Forever Autumn
06. Thunder Child
----- intermission -----
01. The Red Weed (Part I)
02. The Spirit of Man
03. The Red Weed (Part II)
04. The Artilleryman Returns
05. Brave New World
06. Dead London (Part I & II)
07. Epilogue (Part I)
08. Epilogue (Part II) (NASA)



Jeff Wayne - composer / conductor / producer
Richard Burton - George Herbert, the Journalist
Justin Hayward - The Sung Thoughts of the Journalist
Alexis James - The Artilleryman
Russell Watson - Parson Nathaniel
Tara Blaise - Beth, P.Nathaniel's Wife
Chris Thompson - The Voice of Humanity
Anna-Marie Wayne - Carrie, the Journalist's Fiancee
with
ULLAdubULLA Strings
and
the Black Smoke Band
including;
Chris Spedding on guitar
Herbie Flowers on bass





All the photos below were not taken at SECC in Glasgow.